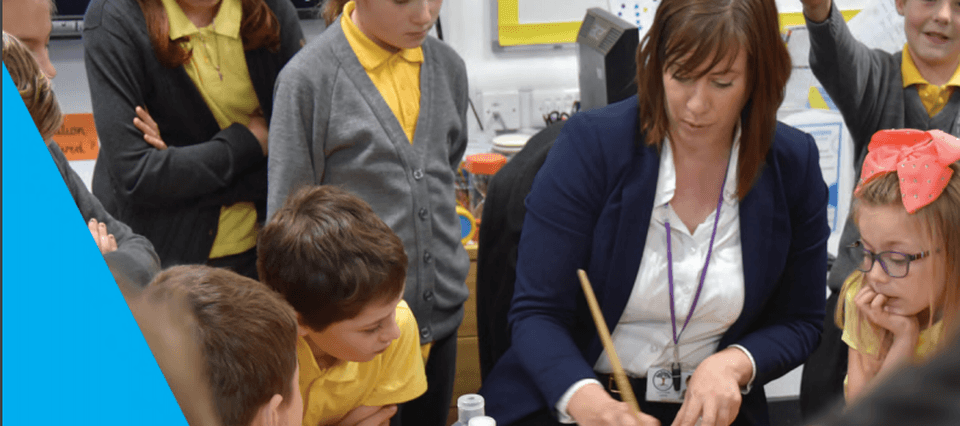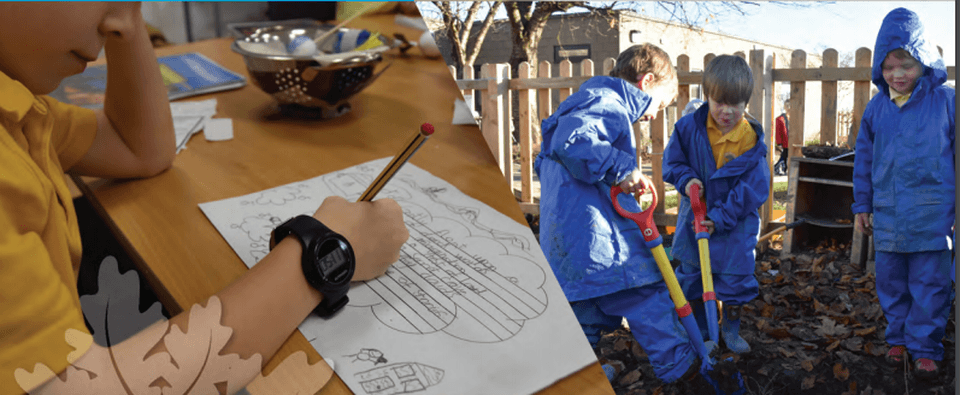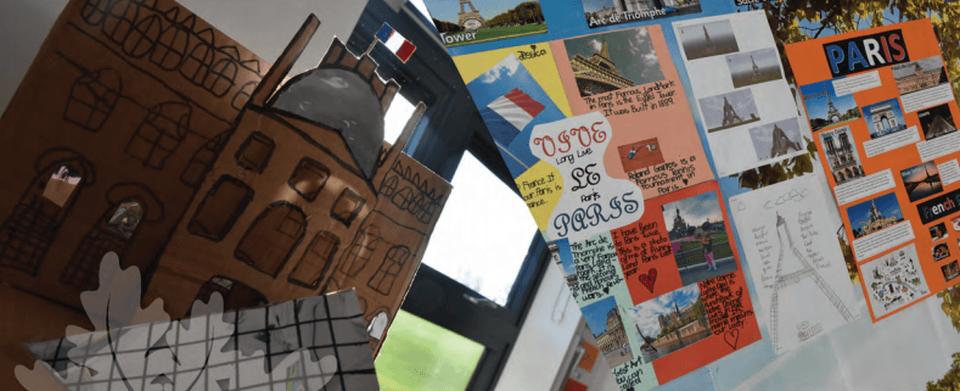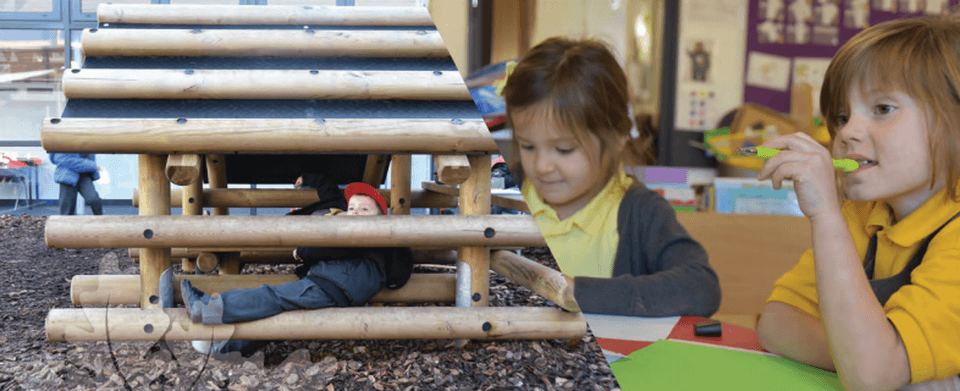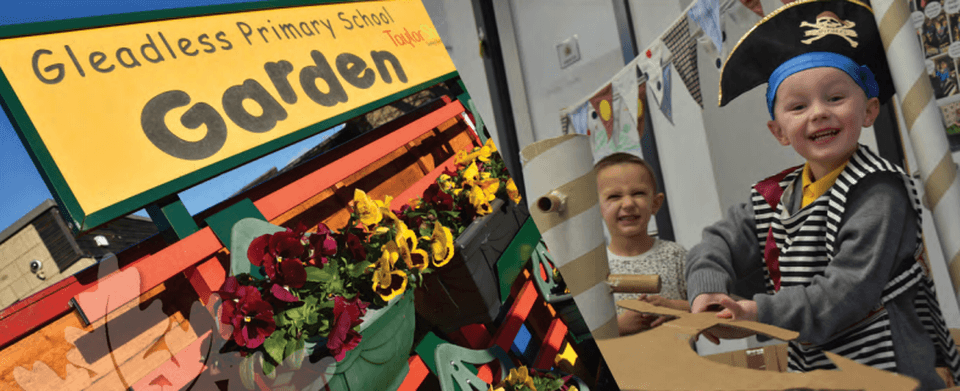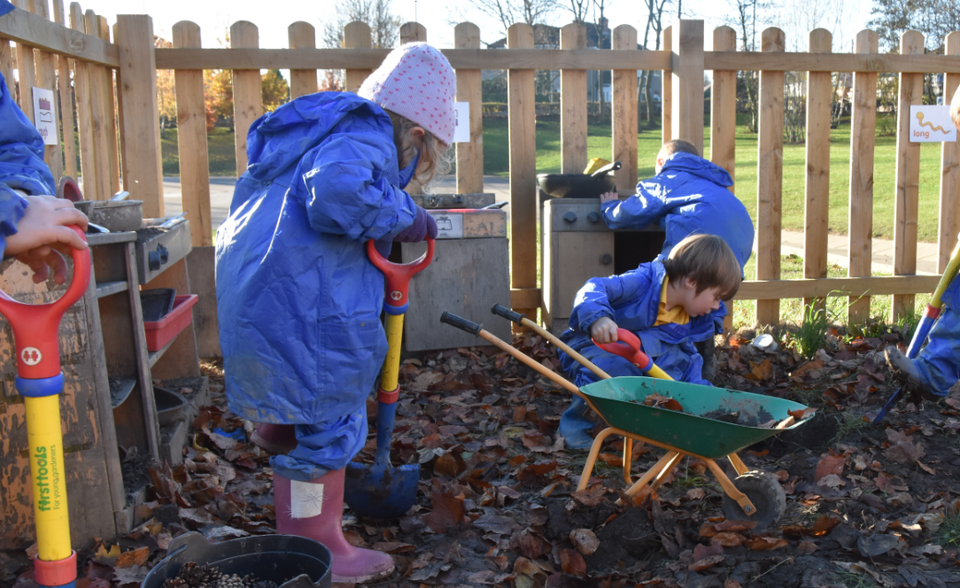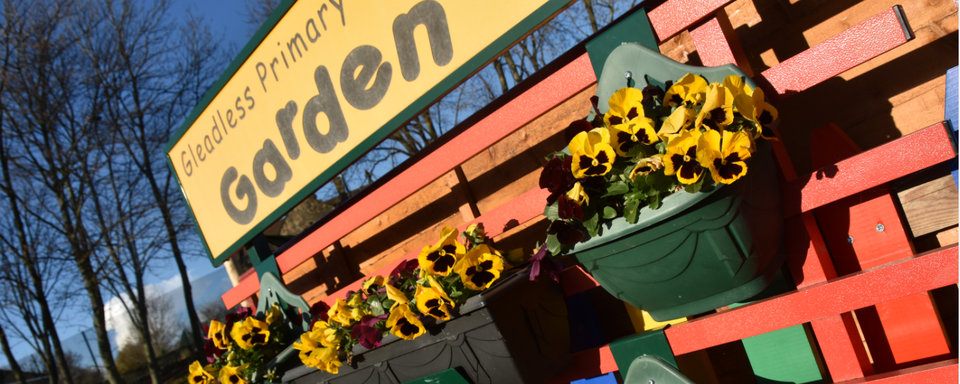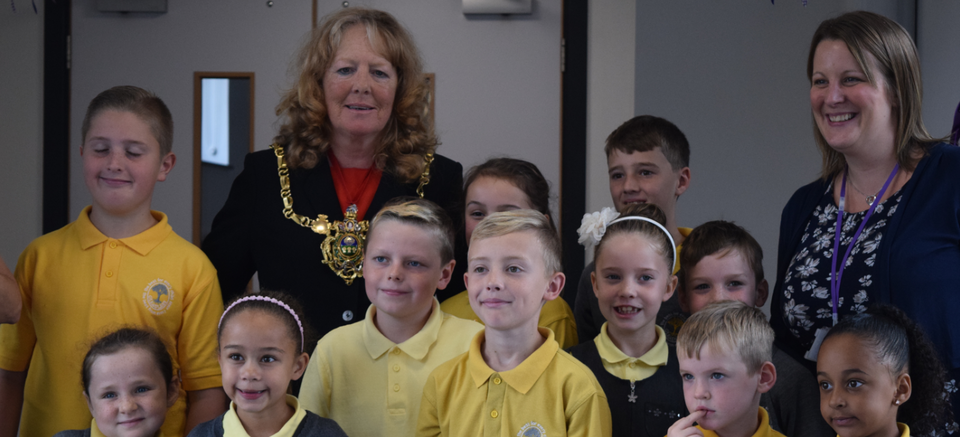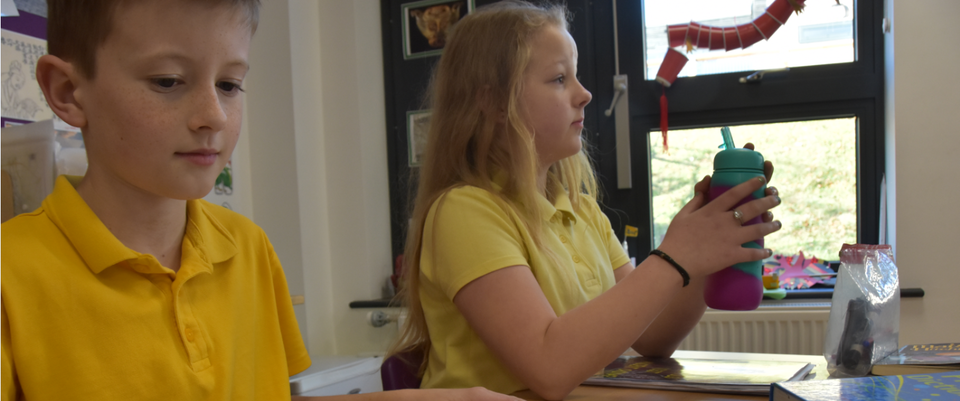 Foundation Stage 2
The FS2 Team
Mrs Plummer – Assistant Head/ Phase Leader / Teacher
Ms Bell - Teacher
Ms Booth - Teaching Assistant
Miss Ibsen - Teacher
Mrs Wait-Smith - Teaching Assistant
Miss Moss - Apprentice teaching Assistant

A very warm welcome to Gleadless Primary School Foundation Stage 2.

We are a dedicated and committed team of staff who work in close partnership with parent/carers to ensure all children accessing our Early Years provision build the foundations of their Gleadless learning journey in a safe, happy and nurturing environment.
Through play-based learning and child led topics, we endeavour to provide each child with a range of opportunities, which stimulate their creativity and support their development based on their likes and interests.
Together with parents/carers, we can engage each child in Early Years provision and support them to develop and progress through a variety of carefully planned and exciting learning opportunities that will support them throughout their time at Gleadless.
The team in FS2 have decided to start a weekly blog to keep you up to date with all of the wonderful things your children have been learning about at school. Every Friday we will share a snapshot of your child's learning with some photographs and questions you could ask your child to promote further thinking. We hope you enjoy it!
We would like to use our last blog post to share some photos of our last week in FS2. We have had a wonderful time celebrating the year together.
The FS2 team would like to thank each family for all of their hard work and support this year. We wish you a very happy and sunny summer holiday!
We have had another busy and eventful week in FS2! We have continued our learning on boats and water, listening to the story of 'Mr Gumpy's Outing'. The children enjoyed recalling all of the animals in the book and had lots of fun acting the story out in a Helicopter Stories session! It has been brilliant to see a vast amount of pictures and writing in response to the book too - our children are definitely ready for Year 1! On Thursday, we has a special virtual visit from Yorkshire Water. We learnt about water safety and how to play safely near rivers, lakes and the sea. Can your child tell you about this? In preparation for the summer, we have started to talk about holidays. We have looked at pictures of many different places and have talked about what we might need on our holiday.
This week, FS2 also met their new Year 1 teachers. The children amazed us with their positive attitude towards the change in their routine and they all made their new teachers feel very welcome in class. On Monday they will be spending the day in their new classrooms, it is a very exciting time!
A challenge for the weekend - Ask your child to choose one of their favourite books. Find a cosy spot in your house or garden and read it together. Maybe your child can read it to you?
FS2 have been learning about the sea this week! On Monday we explored floating and sinking, the children gathered a range of objects and made predications about whether they would float or sink when placed in water. We particularly enjoyed testing out the different objects and talking about what happened and why. Our experiment helped us to think about the best materials to make our own boats. The children designed and made plans for their boats and labeled the different parts of their boats. They then worked together to use recycled materials to construct a range of boats, from ships to speedboats! Our favourite part of week was when we tested the finished boats in the water! We have learnt new Makaton signs this week, can your child show you the signs for sea and boat?
Next Wednesday, our FS2 children will be spending the morning with their new teachers in Year 1. We have had a circle time session where we have talked about this change and what we are looking forward to in September. Ask your child about Year 1, what are they looking forward to? Is there anything they are worried about?
25th June
Ahoy, me Hearties!
This week, FS2 have transformed into pirates and we have had so much fun! We have designed and made our own pirate ships, complete with nets, flags and a ship's wheel, which we have sailed on the seven seas. We have cut, folded and glued paper and card to make pirate hats, eye patches and telescopes. The children have also made treasure maps, they have collaborated to make a giant map of their own using pictures, symbols and words. Take a look at the pictures of our fantastic work below! Here is a sea shanty we have been singing on the deck: https://www.youtube.com/watch?v=_qAngsMJD3I
FS2 have also been estimating in maths this week. The children particularly enjoyed estimating different amounts of cheerios in jars, bowls, spoons and on shapes. They practised recording their estimations and counted to check which estimation was the closest. We have even practised counting the cheerios in groups of 2!
A challenge for the weekend- have a go at home! Estimate how many shoes are on the stairs, how many toys are in the bath, how many books are on the shelf... and remember to count them afterwards to check how many there are! Was your estimation correct?
This week, FS2 have been on a magical train ride! We imagined our train took us to Fairy Land and the children saw lots of wonderful things, from mushroom houses to fairies flying in the woods. Inspired by our journey, we explored writing in fairy dust, making magical wands and writing our own wishes.
We have also been learning about how to keep our bodies healthy and happy. FS2 were able to identify many different foods and sort them into foods that are healthy and foods that we should only enjoy occasionally. The children were able to talk about why we need to eat healthy foods and how fruit and vegetables help our bodies and teeth. Many of the children who eat school lunches have been trying sweetcorn this week as part of our Veg Power Campaign- 'Eat them to Defeat them'. You can find out more about the campaign here - https://eatthemtodefeatthem.com/
You can also find lots of activities and delicious recipes here too!
A challenge for the weekend:
FS2 have been busy learning new songs this week which are about different modes of transport. Mrs Bell's class even wrote the lyrics to their own song about a red, shiny boat! Can your child remember our new songs?
These are the songs we have been learning in music if you would like to sing along:
Oh the Places we Will Go!
The FS2 team were overjoyed to see all of the fantastic models that were created over half term! We were amazed at the creativity and the range of materials that were used. All of the children were asked to share their creations with their classmates, where they confidently talked about the features of their models and how they had constructed them. They are now a great source of inspiration for the children when they are busy building and making in our classrooms.
FS2 enjoyed listening to the story of 'The Train Ride' this week and have practised singing along to the story. We went on our own imaginative train ride and thought of may different things to see! If you would like to sing it at home, you can find the story here:

The Train Ride - YouTube

Inspired by the story, many children have made their own modes of transport using junk modelling materials and a range of tools.
We have also continued to practise drawing number stories this week. The children had lots of great ideas to draw number stories for 5 and 10, including 5 people, 3 apples on a tree - with 2 on the ground, and 5 ducks in the pond and 5 on the grass. It is wonderful to see the children explore number bonds.
A challenge for the weekend:
This weekend, your teachers would like you to look out for different modes of transport! Look on the roads, in the sky or on the water. Count how many cars you can see, count how many motorbikes you can find. Which vehicle did you see the most? Take pictures of all the different vehicles you see and send them to us on Dojo. We would love to share your pictures in class next week.
FS2 are ready for a relaxing break after a very busy final week at school. This week we have been finding out about frogs through observing tadpoles, researching on the internet and reading non-fiction books. Can your child remember what frogs like to eat? Where do they live? What can they do? We have learnt about the life cycle of a frog and talked about what happens during the different stages. The children particularly enjoyed using their bodies to think of creative movements for each stage of the cycle.
The children have been delving deeper into number. We have explored finding one less by performing the song '5 Little Speckled Frogs' and have practised subtraction by taking away frogs from lily pads. The children flourished when they were introduced to number stories this week. Miss Ibsen and Mrs Bell modelled how to draw a number story for 5 and the children were invited to draw their own. There were many different ideas from 5 apples in a tree to 5 ducks in a pond. We then used our number stories to practise taking amounts away.
A challenge for half term!
After observing our children at work we have noticed their interest in making, building and playing with vehicles. We have decided to focus on 'Journeys and Transport' next term. We will be exploring different modes of transport and exciting places, from outer space to the seaside!
Your challenge is to get creative and make a mode of transport. All ideas are welcome: submarines, helicopters, aeroplanes, cars, lorries, trains - the possibilities are endless! You can use any materials you have at home, such as sticks, cardboard, papier mache, polystyrene or craft materials. Please bring your model in on Monday the 7th of June when your child will be invited to share their creation with the class and talk about what they have made and how they created it! Enjoy, we can't wait to see your creations!
Best wishes, the FS2 Team
21st May
Snailing Around & Helicopter Stories
This week we have welcomed more visitors in our classes! These visitors leave a slimy trail, they also like to venture out in the dark and they enjoy wet and damp weather. Can you guess what we have been learning about? (Snails!) Ms Bell made a special tank for snails that she had found in her garden and the children have enjoyed observing and looking closely at them through magnifying glasses. FS2 also met the larger African snails who currently live in Year 2. The children talked about some of the similarities and differences between the different types of snails. We have continued fact finding and have had discussions about what we know about snails. We have then gathered and checked our facts using books and the internet. Can you find any snails in your garden or local park? Take a look at the pictures of our chalk and pastel swirly snails that the children created this week.
Over the last few weeks FS2 have also started 'Helicopter Stories' sessions. During these sessions the children are given time to tell their stories to a teacher who writes it down in a special book for them. Some children have been drawing or writing their stories independently. We have also started to write stories collaboratively as a class! After our talk from the Blue Cross last week we were inspired to create our own story about a pet dog called Blue who found a cocoon. After we have written our stories it is then time time to act them out. We set out a stage on the carpet and the children take turns to be actors or part of the audience, listening carefully to each other's stories. All of the FS2 team are very proud of the stories the children have been creating!
A challenge for the weekend - Can you make up your own simple story and act it out with your family?
Who will be in your story? Where is it set? What time of day is it? What happens?
You can find out more information about Helicopter Stories here:
14th May
A Week Full of Special Visitors
FS2 have had another fun-filled week learning about all creatures great and small. On Monday we made friends with a caterpillar that Miss Ibsen had found in her garden shed. The children were very excited to watch and observe the caterpillar throughout the day and decided to call him Nibbly (as he spent lots of his time eating!) As Nibbly was quite a large caterpillar, we talked about the best place for Nibbly to live to allow him to make a cocoon. We decided to find him a new home in our school woods... Keep an eye out for Nibbly the butterfly in Gleadless! We have also had an exciting delivery of very tiny caterpillars. We have a special house for these caterpillars so we are lucky enough to have them stay in our classrooms as they change through their life cycle. It has been a joy to see how inspired the children have been and they have created a vast number of pictures and paintings of our caterpillars. The children have also been busy using their sounds to write menus and lists for the very hungry dinosaurs that we have in our classes!
Thank you for all of the lovely pictures of your pets which were sent into school this week. All of the children were given time to tell their classmates about their pets, from describing their personalities to remembering how old they are. We have also been practising asking relevant and interesting questions to each other about our pets. On Friday we were joined by the Blue Cross virtually! FS2 enjoyed meeting Ms Spicer who told us all about how to take care of a range of pets including dogs, hamsters, cats and rabbits.
A challenge for the weekend - Can you take care of your pet at home?
For example, feeding the fish in the morning, brushing the cat or taking the dog for a walk.
Don't worry if you don't have a pet - do you have a brother, sister or a younger family member you could help care for? Doing simple tasks for others makes us feel wonderful!
Caterpillar to Butterfly!
FS2 have continued to learn about caterpillars this week through finding out about the lifecycle of a butterfly! We used books and videos on the internet to discover how caterpillars transform into butterflies. The children were then set a challenge to use their bodies to think different movements to represent each stage of the lifecycle. For example, curling up into a ball to be a caterpillar egg on a leaf and spreading our arms out wide to become a butterfly. Can your child act out the lifecycle of a butterfly at home? In our music session this week we have also learnt a song about a tiny caterpillar, if you would like to sing it at home together you can find it here

: https://www.youtube.com/watch?v=JOlbSE0CmNM
In maths we have been busy making and talking about repeated patterns. The children have enjoyed using different resources to make their patterns, from arranging natural materials to using paint to make repeated pattern caterpillars. We have also been making patterns with our bodies through clapping, stamping, shaking, nodding and patting!
A challenge for the weekend -
We are very excited to announce that next Friday the 14th of May FS2 will be having a virtual visit from Blue Cross. They will be talking to us about how to take care of our pets. Throughout the week we will be learning about the special pets that we all have at home. We would be delighted to see some pictures of your furry or scaly friends! You can either send them online via Dojo or in your child's book bag.
Thank you!
3oth May
This week FS2 have been learning facts about caterpillars. On Monday, we had class discussions to gather information about what we already know about caterpillars. It was brilliant to see some children using their phonics sounds to write their own facts and others drawing and painting pictures to express their thoughts. Throughout the week we have been building on our knowledge using books, internet resources and videos. Can your child tell you a fact about a caterpillar? What do they like to eat? How do they move? Where can you find a caterpillar? In maths, we have been using much larger creatures to help us with taking away... Dinosaurs! FS2 have been practising reading and writing subtraction number sentences and have been taking away spots on our dinosaurs to find the answers.
We have also been talking about how we can be a good friend, from saying kind words to one another to sharing our resources with others. The children were then set the challenge of working collaboratively with a partner to create and describe a friend... All of the friends were unique just like us!
A challenge for the weekend -
Tell the story of 'The Very Hungry Caterpillar' with Cosmic kids using these yoga moves
23rd April
All Creatures Great & Small
It has been wonderful to welcome all of our children back to school after the Easter break. FS2 have been delving into our new topic 'All Creatures Great and Small'. On Monday we found enormous footprints left in the mud in our outdoor area! We talked about what kind of creature could have left these prints and we looked on the internet to try and solve the mystery... After our research, we discovered that they were the footprints of a t-rex! Many of the children were excited to draw a picture of what the t-rex might look like and wrote labels and sentences to describe their dinosaurs. We have also started to learn about minibeasts. On Wednesday we went on a spider hunt and the children were fascinated to find many delicate webs in our outdoor spaces. Can your child remember any of the spider facts we have learnt this week?
FS2 are consolidating their number knowledge from 0 to 20 this term. This week the children have been busy making number lines, finding missing numbers and practising addition with dominoes. It has been brilliant to see the children gaining confidence when writing their addition number sentences.
A challenge for the weekend - have a go at these dinosaur exercises:
Can you remember any of the dinosaur names?
FS2 have been making the most of the glorious Spring weather this week and have spent much of their time outdoors! The children have been engaging in many different self-directed projects including making rockets and spaceships from large construction materials, filling and emptying containers in the water, making flower potions and digging and mixing in the mud kitchens. FS2 enjoyed exploring shape and space using our shadows - have a look at our tall, narrow and wide shadows below! As it is Spring, we have also planted some more flowers and tomato plants in our garden. The children were able to use tools to pot the plants carefully and they have been making sure they have enough water in this sunny weather. Inspired by the season, FS2 have learnt about the Christian celebration of Easter and we have discussed how people celebrate this special time. On Thursday morning we all thoroughly enjoyed wearing our very unique Easter bonnets and hats for our Gleadless Easter Parade!
A challenge for the holidays -
Your child will be bringing home a bean in cotton wool which has started to sprout. Ask your child to look after the bean in your house. Where could it be kept? How can you keep it alive? What does it need?
Check on your bean every day, can you see any changes? What has happened?
*Remember to take pictures or draw your growing bean to show your friends when we return to school!
Friday 26th March
Jack and the Beanstalk
FS2 have listened to the traditional tale 'Jack and the Beanstalk' this week. The children have enjoyed listening to different interpretations of the story from their teachers and watching a stage play. They were then able to tell and sequence their own versions of the story using puppets and props! The story has developed the children's understanding of the components of a story including the characters and the setting. It was wonderful to see the children create their own books where they labelled and wrote simple sentences about the main characters using their phonic knowledge. FS2 particularly enjoyed planting their own magic beans. We have talked about how to care for our beans and we have found a sunny spot for them at our windows. Can your child remember all the things a seed needs to be able to grow? The FS2 teachers are very impressed with how the children are caring for our plants by watering our indoor and outdoor plants daily.
* A fun maths game for the weekend:
- Challenge your child to draw a long beanstalk on the ground using chalks.
- Give your child number cards to 10 or 20. Can they make a beanstalk number line by ordering the numbers?
This week everyone at Gleadless have been celebrating Shakespeare week! FS2 have been exploring the play 'A Midsummer Night's Dream', we have learnt about the characters from the story and have tried to understand and remember the tricky plot! The children enjoyed the concept of the magic flower and had fun creating their own magical flowers from natural and craft materials. They were also intrigued by the fairy characters and were busy making fairy crowns, wands and even houses in our outdoor spaces. As Shakespeare was such a brilliant writer we began to look at what it means to be an author. We found the names of different authors on our books in class and it has been wonderful to see the children starting to write and draw their own books!
As the weather is set to be glorious this weekend have a go at this maths game:
- Go outdoors: the garden/park/green space. Give your child a starting line.
- Ask your child to take a number of steps (any quantity to 10).
- Repeat with different quantities and different steps, for example take giant steps/tiny steps/tiptoes.
* In your family, who can travel the furthest in 10 giant steps? Who can travel the shortest distance in 5 tiny steps?

The children had lots of fun exploring number and distance when we played it at school, we hope you enjoy it!
It has been wonderful to welcome all of our FS2 children back to school this week. The children have settled back into our routine brilliantly and have shown their teachers that they are ready to learn! This week it was Science Week for the whole school at Gleadless. The children have been set different tasks to challenge them to think creatively and critically. After reading the story 'The Three Billy Goats Gruff', FS2 were asked to build a strong and sturdy bridge for the goats. It was fantastic to see the children use and test many different materials including, wooden blocks, cardboard, stones and Lego - to name a few. Inspired by this task, many children also decided to make shelters for the goats! As the weather has started to change as the season moves towards Spring, FS2 have also been observing plants and daffodils in our classrooms. They have created some beautiful observational paintings. FS2 also had a real treat on Friday when we explored liquids and solids through melting chocolate to make Spring bird nests.
Can you see any signs of Spring in your garden or on your walk to school?
Take a photo or draw a picture to show your class!
This week we have been reading the story 'The Enormous Turnip'. Inspired by the story, the children have engaged in a range of activities including making vegetable printing, making a delicious soup and using veggies to practise subtraction number sentences and vegetable printing. We have also talked about the importance of eating healthy foods and doing exercise to keep our bodies fit and healthy. It was a joy to see many of our children completing the FS2 fitness challenge, where the children were set the task of completing different exercises. The children who completed the challenge will be entered into a prize draw and two winners will be announced on Monday!
We have also had a very exciting week celebrating World Maths Day and World Book Day! In school we explored shape, from playing guess the shape games to making structures from 3D blocks. It was wonderful to see our children working from home also creating wonderful pictures from 2D shapes, painting shapes and making patterns with their prints. We hope you all enjoyed the special activities set for World Book Day, our children in school were busy reading lots of stories, making character pebbles and their own bookmarks.
Many of the competitions are not due until Monday 8th of March so feel free to carry on the fun this weekend! To enter, simply add your pictures or videos to the Google Classroom assignment for Thursday 4th March. We can't wait to see what you have been up to!
26th February
Goldilocks and the Three Bears
This term our new topic is 'Once Upon a Time' where we will be reading and learning about many traditional tales. This week we read story of 'Goldilocks and the Three Bears'. At the start of the week the children were set the challenge to lay a table for a teddy bear's picnic, where they matched and ordered different sized bowls and spoons to Daddy Bear, Mummy Bear and Baby Bear which has developed the children's vocabulary when talking about size. FS2

have also been busy measuring and mixing ingredients to make our own porridge and oaty play dough. The children were able to remember all of the ingredients to write their own lists and recipes.
On Thursday, the children were set a challenge of making a new chair for Baby Bear - as Goldilocks broke his chair! It was brilliant to see the children thinking creatively and they built chairs made from a range of materials including cardboard, Lego and wooden blocks. The children thoroughly enjoyed testing their chairs with their teddy bears. The highlight of the week was listening to the children retell the story on Friday. With the children in class, we sat in a cosy spot in our reading corners and used props and puppets to tell the story to each other. We also received brilliant videos from the children at home. It was wonderful to see our children confidently retell the story using a range of vocabulary. Well done FS2!
12th February
Chinese New Year!
This week FS2 have been learning about Chinese New Year which is celebrated by many people around the world today! The children have listened to how people prepare for the celebration and have helped clean and tidy their homes. They have also used their creative side to make lanterns and dragons to decorate their homes and our classrooms. FS2 particularly enjoyed listening to the story of the Chinese Zodiac and were set the challenge of ordering the animals from 1st to 12th place. This celebration has also helped to strengthen maths skills, including writing Chinese numerals, using Chinese money wallets to count different amounts of coins and using noodles to explore length, quantities and numeral formation.
A huge thank you to all of our children and parents for your hard work this term, we are very impressed by all of the fantastic learning which has taken place. We have attached a booklet below full of fun activities to help keep your child busy during the half term.
We wish you a happy and restful break.
Best wishes, the FS2 Team.
29th January
Getting Creative
This week FS2 have engaged with many different creative and artistic activities. This has been a focus to provide our children with an outlet for creativity, to give them time for calm and mindful moments and to develop their fine and gross motor skills. On Tuesday and Friday, the children followed different recipes to make edible finger paint. It was wonderful to see how the children made the mixture and how they enjoyed playing with it afterwards- from intricately painted flowers to hand print master pieces! After listening to the story 'The Odd Pet', the children thought of what pet they would like to have. They drew, painted and even made their chosen pets which included: dogs, anacondas, elephants, foxes, zebras and goldfish! On Thursday the children were given a maths challenge- to write numbers from 1 to 10 and to count out and place the correct amounts of pasta next to each number. After this task was completed, it was a joy to see some children using the pasta to create their own pictures and numbers.
In our classrooms at school we have areas set up for the children to engage in arts and creative activities daily. We provide resources for them to cut, stick, make models, pictures, drawings, collages and paintings (to name a few). For the children learning at home, please encourage your child to engage with an activity like this, or an activity you are interested in such as sewing or baking. There are so many benefits to the arts but particularly during this time of uncertainty these activities help children to unwind and keep their minds busy and stimulated.
**Ideas for if you are worried about mess:
- buy a cheap set of watercolour paints (teach your child how to wash the brush between colours)
- take the craft materials/paint outside
- paint with water outside
- chalk the floor outside
- use sticks to make patterns, drawings, write numbers/letters in a muddy patch or a sandpit.
22nd January
Chilly Challenges
FS2 have had another busy week of learning at home and at school. The children have engaged with a range of maths activities to develop and strengthen their number knowledge. The number hunt was a highlight for our children, they found numbers all around their houses and at school, even in books! The children then practised writing the numbers they had found. Many children were able to talk about the biggest and smallest numbers and even made their own number lines!
As we are learning about Winter this term, the children have had some chilly challenges to complete! We know that it is important to keep warm in winter so on Monday, the children were set the task of making a waterproof hat for teddy to wear. The FS2 team were amazed by the innovative yet practical designs. On Wednesday the children had an ice exploration; where they used their senses to feel and talk about the ice. The children also enjoyed making cosy doodle dens from material and cushions, they were the perfect place to draw, play and relax.
*A challenge for the weekend: go for a number hunt in your neighbourhood- look on doors, on cars or buses, in shops- numbers are everywhere! Which is the biggest number you can find?
15th January
What a Weighty Week!
The FS2 team have been amazed at the learning taking place both at home and at school this week. The children have continued to explore the season Winter and enjoyed listening to the story 'A Little Bit of Winter' on Monday. Inspired by the story, the children were able to think of many Winter words. They also used their folding and cutting skills to make paper snowflakes.
This week the children have also started to explore weight and have used their bodies to become human balance scales, weighing different objects and putting them in order from the heaviest to the lightest!
A challenge for the weekend:
Choose a recipe to make with your child.
Gather all of the ingredients needed together. Show your child how to weigh out the ingredients using kitchen scales or a measuring jug and then let them have a go.
Mixing and kneading the ingredients with a spoon or hands is also great to develop motor skills!
Here are some ideas:
Cookies: https://www.bbcgoodfood.com/recipes/basic-cookies
Pizza: https://www.bbcgoodfood.com/recipes/pizza-homemade-sauce
Play dough: http://allrecipes.co.uk/recipe/50/play-dough.aspx
Have fun!
8th January
Winter!
It was lovely to welcome everyone back to school on Monday. Refreshed from the Christmas break, the children impressed the FS2 team with their knowledge of the new season which is upon us; winter! A special challenge – can your child put on all of their winter clothes (coat, gloves, hat, shoes and a scarf) before you can count to 20? Extra points if they can zip up their own coat too!
It has been brilliant to see the learning taking place at home this week. A huge thank you to our parents for their continued support at this challenging time and for engaging in the daily tasks set by the FS2 team. It has been wonderful to see all of the photographs and videos of the children enjoying learning at home. Please keep sending the pictures in via Dojo and there is a little reminder below of everyday activities you can do with your child to support their learning.
18th December
It's Christmas!

It has been a pleasure to be back in school this week and the children have thoroughly enjoyed playing with their friends once again. As our core value this term is 'We Care', we have had circle time sessions where we have talked about how to be a good friend, how to share and how to listen to each other. FS2 have also had an exciting time preparing for our Christmas celebrations. The children made unique party hats which they wore for our Christmas dinner on Wednesday. The highlight of our week was our Christmas party! We danced, ate party food and sang our favourite Christmas songs.

This week we have received brand new reading books for your child to read at home! Each week we introduce the book to your child and read it with them. Please can you continue to read these books with your child to support their reading journey. You may also want to talk to your child about what is happening in the pictures, talk about what might happen next or discuss the characters in the book.

Have a wonderful Christmas! We cannot wait to see you all in the New Year.
Best wishes from the FS2 Team.
11th December
Home Learning
The FS2 team would like to say a huge thank you to our children and parents this week. We are very proud of the hard work and dedication you have shown towards the home learning activities which have been set each day. It is clear to see how much the children have gained from these experiences and how much fun they have had along the way. Another thank you to our parents who have stayed in close contact with the team and have took a vast amount of pictures and videos to share with us; they have really brightened our days! Here are just some of the pictures we have received to highlight the FANTASTIC learning which has taken place this week.
THANK YOU FS2! Keep up the amazing work!
4th December
Getting Ready for Christmas
This week FS2 have been getting into the festive spirit! On Monday we looked at some pictures of how people celebrate at Christmas. The children thought about some of the things they have been doing at home and how they celebrated last year. They were very excited to tell us about their Christmas trees and many children decided to paint or make their own trees from creative materials. On the first day of advent, FS2 found mischievous elves in their classrooms! We decided on names for our elves and wrote Christmas cards to them to make them feel welcome at Gleadless. FS2 have also been busy little elves, making cards for some very special people in their lives… Have a look at our pictures for a sneak peek!
The children have been finding one less than a number this week. They particularly enjoyed singing '5 Currant Buns' to help us find one less than for numbers from 1 to 5. The children even extended this to 10 currant buns!! Can your child sing this song to you? We use our hands to represent the numbers when singing this song.
27th November
Owl Babies
This week FS2 received a letter from a worried little owl called Bill. The children recognised him from the story we have been reading in class, 'Owl Babies'. We decided to write letters to Bill to make him feel better. Miss Ibsen and Mrs Bell arranged for them to be posted to the oak tree on Frith Road! Inspired by Bill, the children have been busy painting and making their own owls from craft materials. FS2 particularly enjoyed watching videos of how owls fly. We then used our bodies to recreate some of the movements, from flying in the sky to curling up in a nest. The children have also impressed their teachers by counting to 10. We have played some new games to practise finding one more than a number.
The children have been learning facts about owls this week. Can they tell you what owls like to eat? Where do they live? What does nocturnal mean?
20th November
United Against Bullying
To mark the start of Anti-Bullying Week both the children and adults in FS2 wore odd socks to school. This was a great starting point to discuss the brilliance of being different from one another. Throughout the week we have shared many stories which have celebrated difference, being kind and respecting others. Including 'Odd Dog Out', 'Chrysanthemum' and 'Elmer the Patchwork Elephant'. The children have been encouraged to talk about how we can be kind to others and they made kindness badges and friendship bracelets to give to a friend. We have also talked about how special and unique we are. Making biscuit portraits was a highlight for our FS2 children!
For the last two weeks we have been learning a special song in our music sessions. It is called 'Let's Be Friends'. Can your child sing the song to you? Can they remember the actions too?
You can find the song with music here: https://www.youtube.com/watch?v=A6-VlB5KbfE
We have been singing it with a slower playback speed. You can change this by clicking on settings and 0.75. Have fun!
13th November
Remembrance Day and Diwali
There have been some special dates this week which have helped us to think about other people's lives. At the start of the week we looked at some paintings of poppies by Georgia O'Keefe. The children talked about how they had noticed that some people had been wearing poppies on their clothes. We learnt that poppies help us remember the people who lost their lives in the war. On Wednesday FS2 thought about these special people and sat for two minutes silence. FS2 have also learnt about Diwali, the festival of lights, as Hindus, Sikhs and Jains across the world will begin their five day festival on Saturday. We heard the story of 'Rama and Sita' and learnt about how people celebrate this special celebration. The children particularly enjoyed moulding and shaping clay to make their very own Diva lamps.
Inspired by Kandinsky's art work, FS2 have been using 2D shapes to make collages and have been practising drawing various shapes. Many children can now recognise a circle, square, triangle and rectangle. Can you find any of these shapes in your house? What shape is a window or a door? What shape are the wheels on a bus?
This week we have been learning all about Bonfire Night, we have listened to the story of Guy Faulkes to help us understand why people celebrate on the 5th of November. Many children have enjoyed talking about fireworks they have seen. We have used our bodies to pretend to be fireworks swirling in the sky and have painted pictures of them. On Thursday, we worked together to gather wood to build our very own bonfire! We all sat around the fire together to sing songs and eat our breadstick sparklers. Inspired by our bonfire, the children have used different materials to make collages. They have also read a sentence about some of the things they might see at this time of year, such as sparklers, bonfires and rockets.
We have talked about how to stay safe on Bonfire Night and in the autumn when the evenings are darker. Can your child remember how to stay safe in the dark?