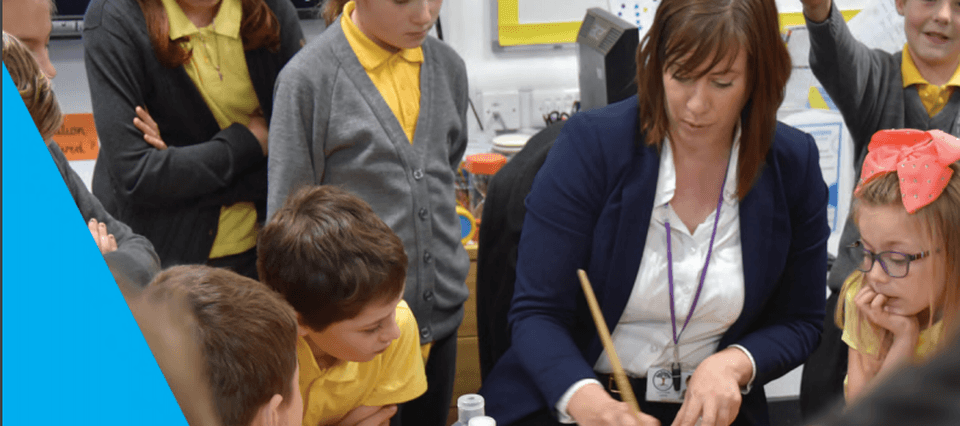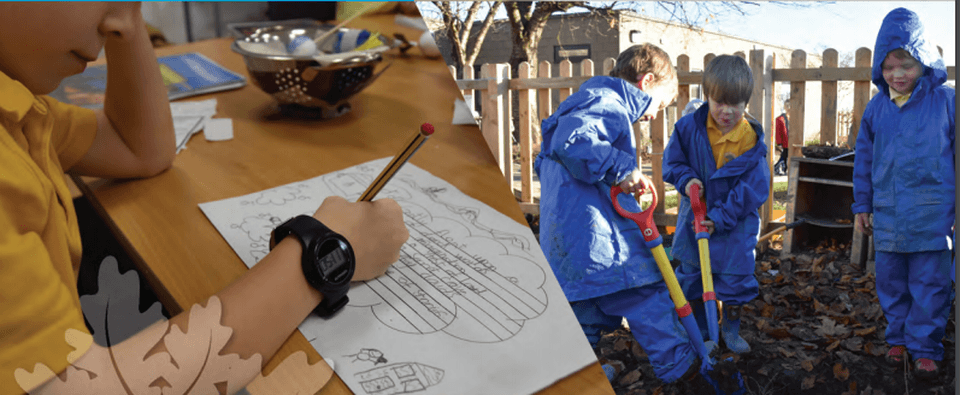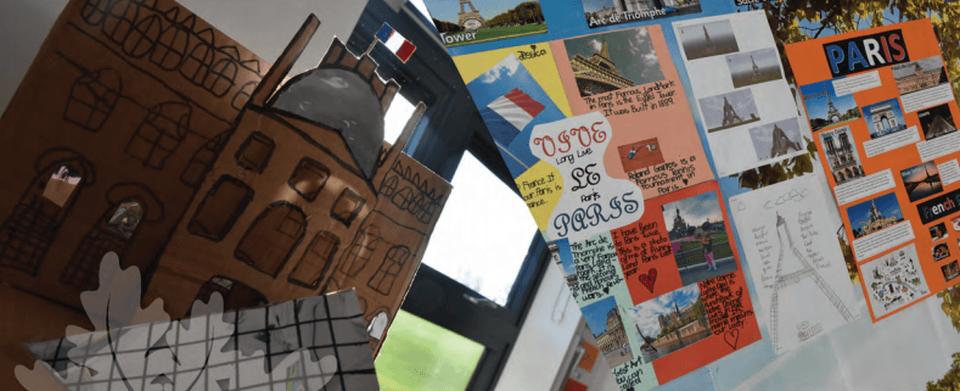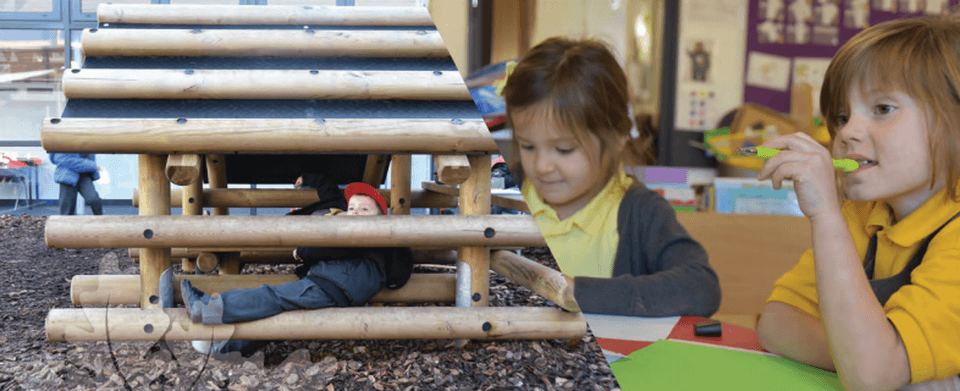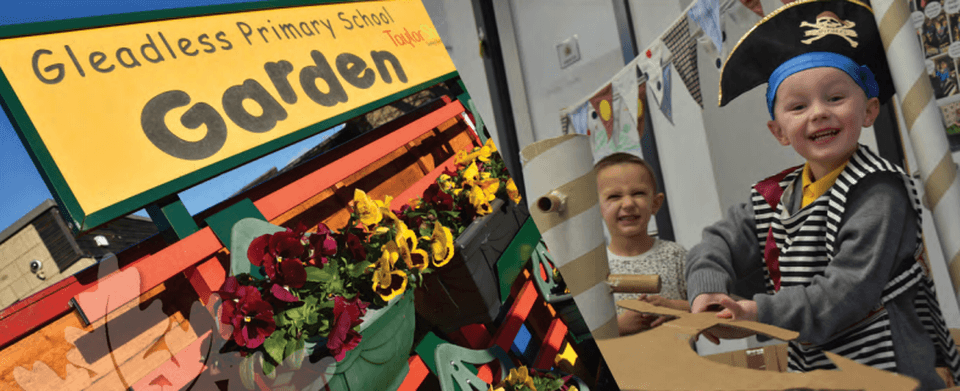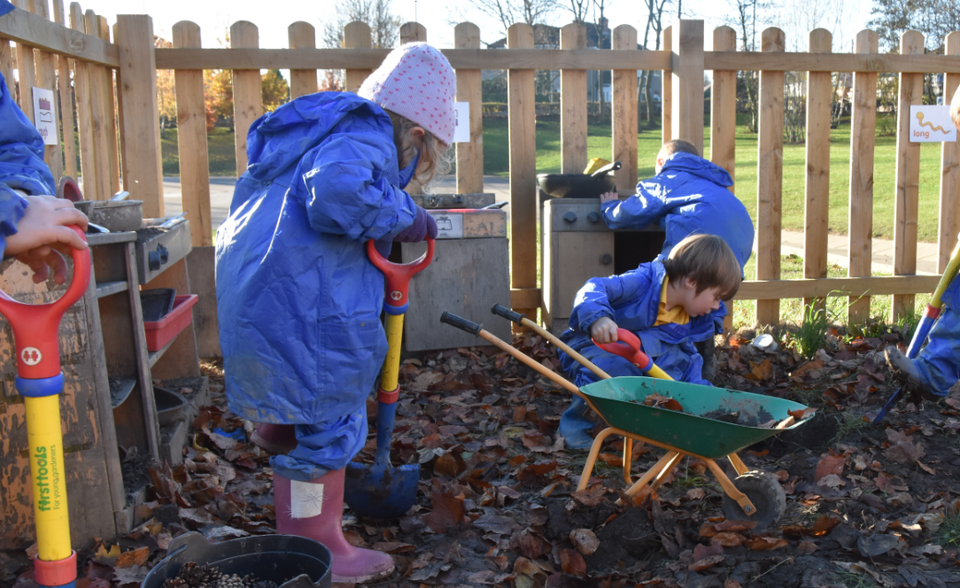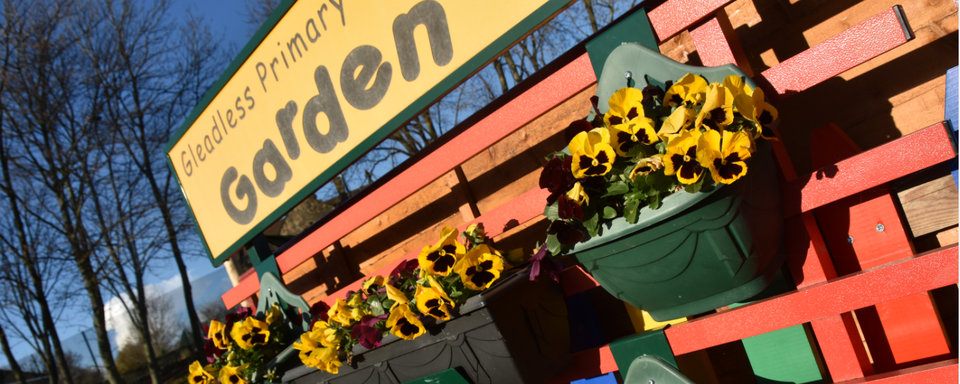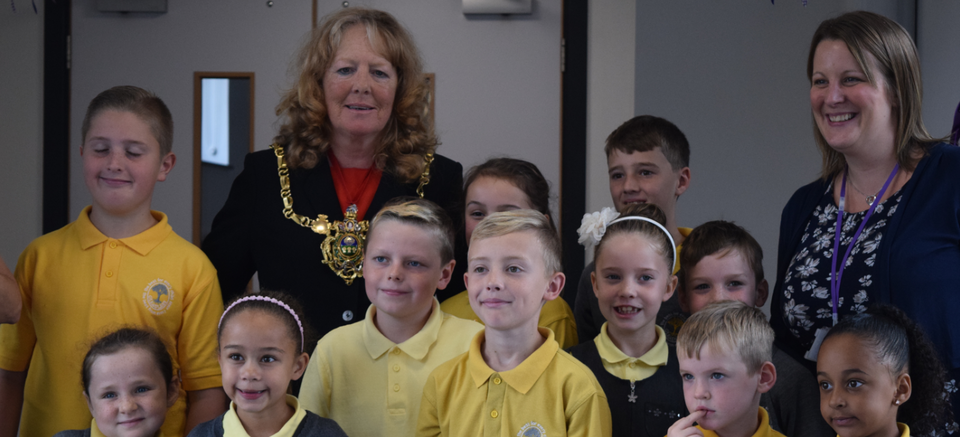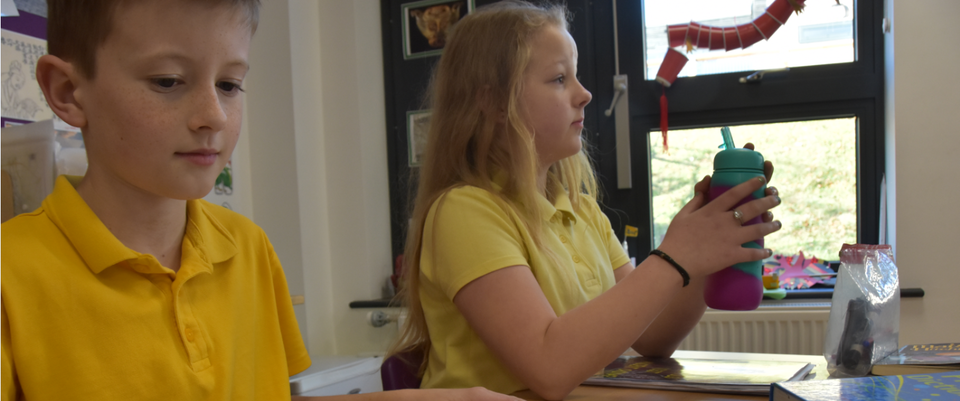 English Curriculum
The English curriculum at Gleadless Primary School is creative, broad and balanced, and is strongly linked to our Learning Challenge curriculum. We know that our English curriculum and the development of our pupils' literacy skills is fundamental to their learning in the wider curriculum. We believe that equipping our pupils with the ability to communicate effectively - whether in written or spoken language - and to engage both critically and respectfully with the views of others, helps them to become active and engaged members of society. Through our English curriculum we aim to develop children's skills, knowledge and understanding so that they feel they have a voice, that it is valued and that they are confident to share this with others.
Literacy lessons are taught daily and use key texts - our 'Class Books' - to develop children's reading comprehension and writing skills. Teaching sequences for units of literacy learning draw on the CLPE's (Centre for Literacy in Primary Education) Power of Reading programme and follow a 'reading into writing' approach. This approach immerses our pupils in high quality and language-rich texts, supporting them to develop their comprehension skills in creative and engaging ways, and provides authentic and purposeful opportunities for writing. The class books also link to and support children's learning through our immersive Learning Challenge Curriculum.
Writing: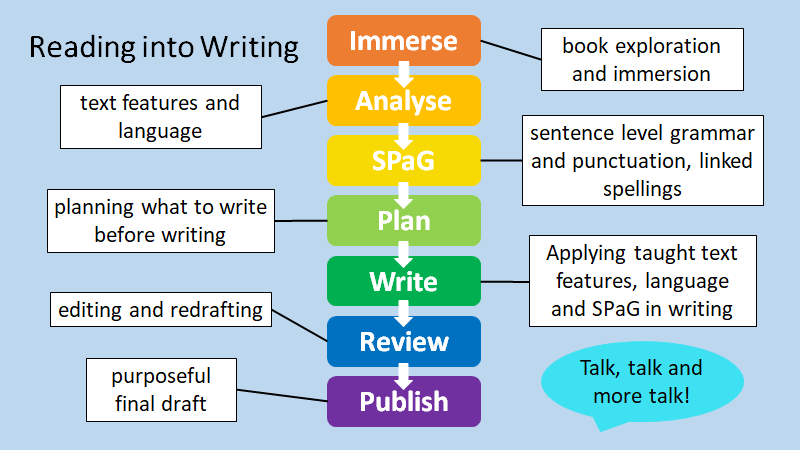 Our teaching of writing follows a clear sequence with high quality talk and dialogue running throughout:
Immerse: pupils are given a range of creative and engaging opportunities, including drama and art, to explore the text and develop their reading comprehension skills.

Analyse: pupils look at exemplary models of the text they are going to write - a 'Perfect Piece' - to develop their understanding of the key features of the text. They will also have an opportunity here to gather and build vocabulary they will use in their writing.

SPaG: this part of the sequence allows pupils to develop their grammar, punctuation and spelling skills in a contextualised way. This means that they are exploring and practising the sentence level techniques used by authentic writers in order to develop their own writing.

Plan: pupils will use drama, dialogue, story mapping and planning frames to prepare for writing. They will be supported to draw on the SPaG skills they have learned as well as the vocabulary they have built through the sequence.

Write: pupils engage in shared writing with their teacher and then write independently using their plans and understanding of the key features of the text type.

Review: at this point pupils will be supported through peer and teacher feedback to edit, redraft and improve their writing.

Publish: whilst this is not part of every writing sequence, key writing outcomes are identified throughout the year where pupils are given the opportunity to 'publish' their writing in a range of different ways. This gives their writing purpose and develops personal pride in their achievements. A number of these pieces will be included in our Proud Books and shared with parents at our celebration events.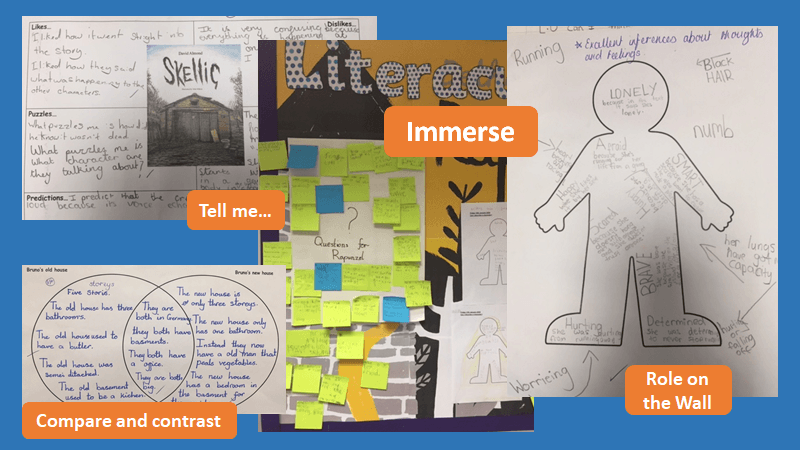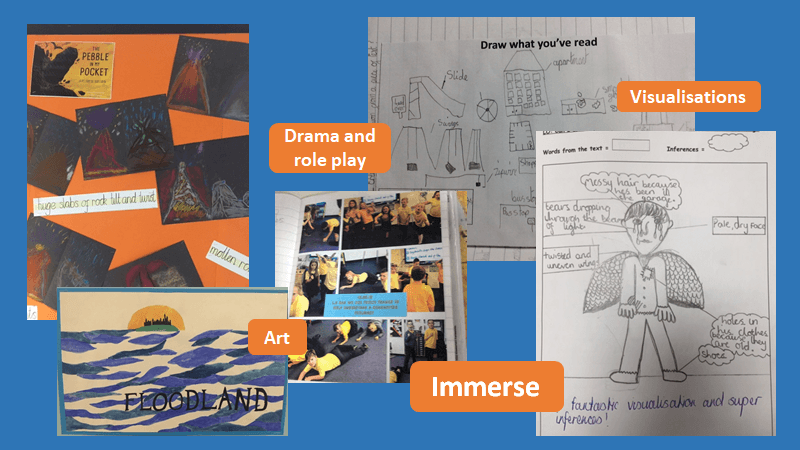 Our long term plan for the year identifies: the key texts or class books, purposeful writing outcomes which ensure coverage of different text genres, and National Curriculum grammar and punctuation objectives to be covered as part of the teaching of writing within each unit. All our writing opportunities link to the class book and/or the Learning Challenge curriculum and often draw on children's 'real-life' experiences. Once every two weeks, pupils also engage in Big Write sessions where they write independently in a quiet and focused writing session. These sessions offer opportunities for pupils to revisit taught text types and to apply spelling, punctuation and grammar learning. Our assessment of pupils' writing throughout the year uses the Writing Leaping Ladders which reflect National Curriculum objectives for each year group. The Leaping Ladders help teachers to identify gaps and ensure progression through the key stages and across school.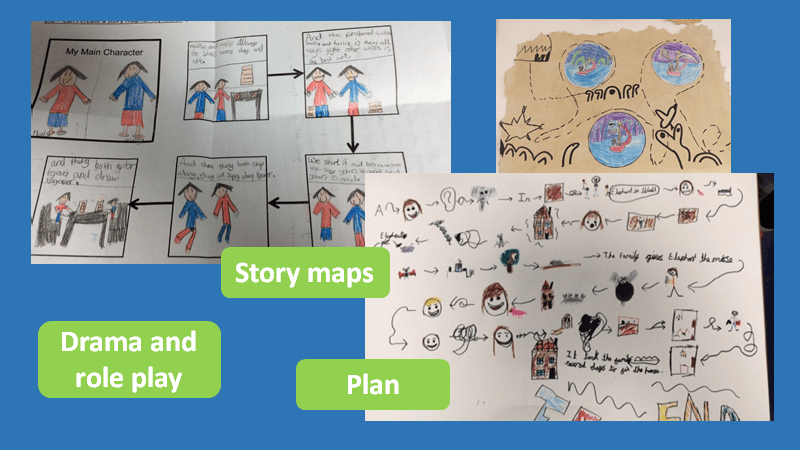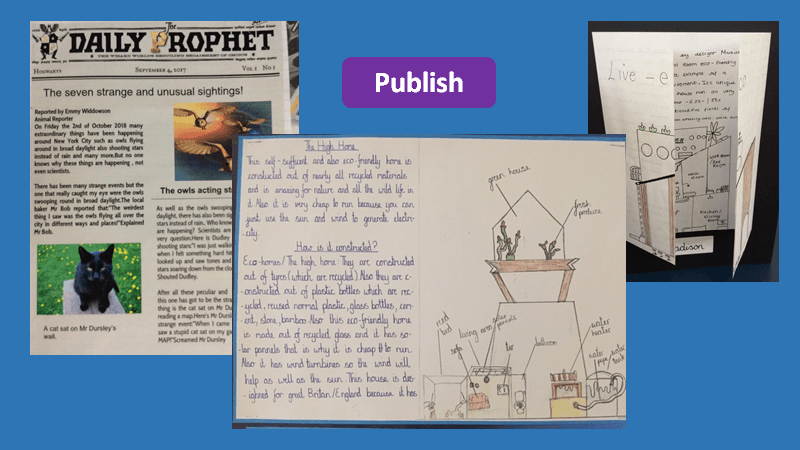 Handwriting:
At Gleadless we follow the Martin Harvey handwriting scheme which is taught in short discrete handwriting sessions through the week. Pupils are supported to apply this to all their writing in KS2 through the use of plain paged writing books and line guides. One of the key aims of the Martin Harvey scheme is for pupils to take pride in their handwriting and presentation of their learning: our Proud Books and 'published' pieces of writing offer the opportunity for children to show off their skills and produce beautiful pieces of learning of which they can be proud.
Phonics:
We follow the DfE's Letters and Sounds programme and children are taught daily in 20 minute sessions - whole class and in small, targeted groups - in FS2 and KS1. Every phonics session follows the recommended four-part structure: revisit, teach, practise and apply. Regular phonics assessments and tracking of progress ensures teachers understand the gaps pupils have and are able to target these through small group and one-to-one interventions. We hold regular opportunities for parents and carers to attend phonics information sessions to help them support their children at home.
See our 'Reading at Gleadless' page for more details about our teaching of phonics.
Reading:
Reading is at the heart of both our English Curriculum and Learning Challenge Curriculum at Gleadless. We look for opportunities across our curriculum to engage children in reading widely and for a range of purposes, building their vocabulary and reading comprehension skills. Our 'Class Books' link to our Learning Challenge Curriculum and are central to our whole class learning in reading and writing. Through our literacy units based on the books, children are given a range of opportunities to explore and creatively engage in reading through discussion, drama, role play and art. We believe that ensuring all our children - whatever their independent reading level - have access to high quality texts which challenge and deepen their thinking: our Class Books provide these rich opportunities.
As well as maximising opportunities for shared reading as a whole class, our pupils work with their teacher at least once a week in guided reading groups, which provides targeted and bespoke teaching at children's independent reading level. Children who need additional support with their reading can access one-to-one or paired reading, targeted phonics, Lexia and reading comprehension skills sessions to help them progress and develop as readers.
See our 'Reading at Gleadless' page for more details about our teaching of reading.